Version

5.0

Download

1049

File Size

209 KB

File Count

1

Create Date

18 December 2022

Last Updated

13 September 2023
TaylorDrift ScottishTryHard 5.0
Introducing ScottishTryHard 5 for Cronus Zen from Taylordrift21 & TD21 Team!
How to update?
Start by making sure you've the latest version of Zen Studio (v1.2.1 Beta 119) and Firmware (2.1.0-beta.43) and then follow the Cronus Zen Studio Beta Update Procedure. After this Sync the GPC script to Zen Studio as normal.
Credit to CronusMan#0890 for providing us with this early release GPC!
Changelog
Improved Anti Recoils

Legacy Recoil
Rumble Recoil
Polar v2.0
Legacy/Rumble
Advanced Recoil (Legacy/Rumble)

Built In Admin Values For the improved Aim Assist (Taylor Assist and Ceorin AA)
The purpose of the admin values is to save you time finding values when you could use admin values built into the script and at your own ease these values will load and have the selected aim assist / values all pre-loaded already for you.
3 Different Aim Assists to choose from:

Taylor Assist v1
Taylor Assist v2
Taylor Assist v3

We now have Polar - Linear Types - Curve Types (Standard - Dynamic - Elevated )
11 Shapes to choose from - Ads Speed - Speed - Radius - Spiral -
Boost on fire (Normal Boost - reduced boost)
Boost Speed - Boost Min Radius - Boost Max Radius - Tracking (Original - Dynamic - Elevated)
Tracking Size - Tracking Speed - Tracking Boost - Tracking Boost Size - Tracking Boost Speed
Ceorin AA (Left Stick Only - Left & Right Stick ) With Ceorin Boost On Fire (Boost size)
Rapid Fire (RPS - Recoil Options ( Legacy - Rumble ) - Vertical Strength ( this is if you want additional recoil when using rapid fire )
Improved Akimbo Rapid Fire
Drop Shot - Snake Shot - Crouch Shot - Jump Shot - Auto Aim - Enemy Ping (All improved for MW2 / Warzone 2.0)
Holdbreath - QuickScope - Silent Scope - G-Walk - Cancel Slide (3 options) - Bunny Hop - Fast Melee - Snake Plate - Vm Speed - Custom Sens - Infinite Tac Sprint
Dolphin Jump - Dolphin Cancel
Button Layouts/Stick layouts - Block Rumble - Hair Triggers - Button Remaps - Button Unmaps
3 Profiles
Quick Toggles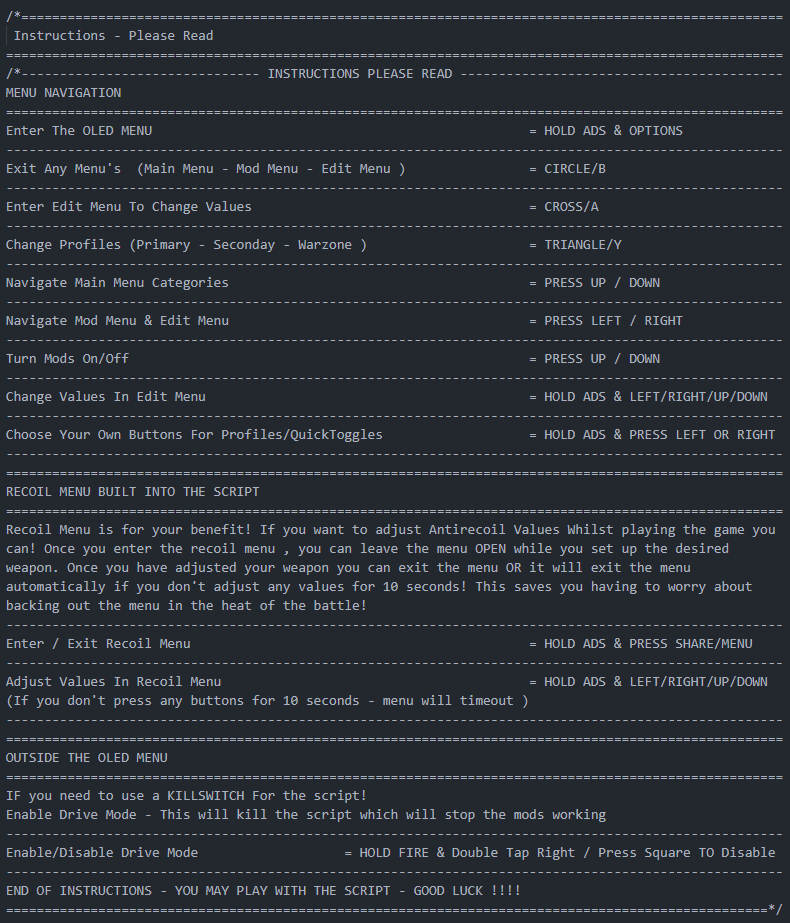 Massive shoutout to
TaylorDrift21
, the TD21 Team Executives and the whole squad that worked together on this!
Remember this script and all the other fantastic scripts from TD21 are completely free! Do NOT pay for them.
Heads up!
This script requires both Firmware (2.1.0 Beta 68) and Zen Studio (1.3.1 Beta 46)
Beta Version
in order to function properly.